---
---
So we have 12 hours here in Singapore, and we decided to spend it in the airport. Now, in LAX or DFW, this would be a masochistic thought … but not in Singapore …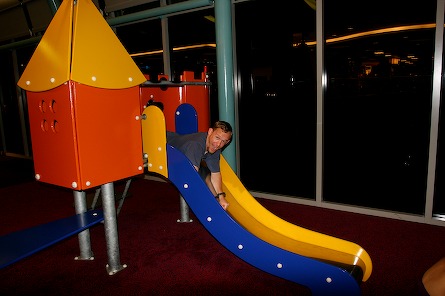 This is the Kids' Play Area. Daniel demonstrates on the slide.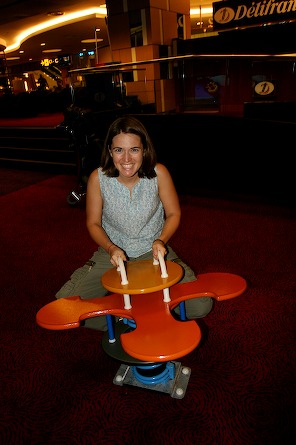 Me on the 4-way see-saw.
This section has 5 different TV areas – Cartoon Network, BBC, National Geographic, Movies, and Sports – where one can pick the TV station he want to watch, and sit in very comfortable lounge chairs with personal speakers in the armrests (so that the noise of the TV doesn't travel, but you can still hear it well).
The Nexus Lounge only has hard plastic chairs to sit in. But … they glow with an internal light, and are oddly extremely comfortable (not to mention interesting).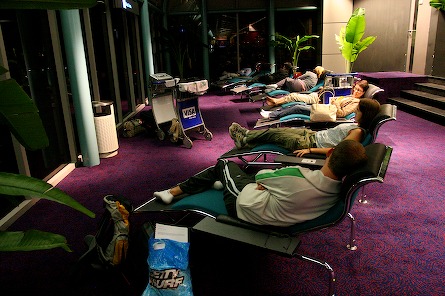 In the various Rest Areas tucked into quiet corners of the airport, passengers with a layover can take naps in these special lounge chairs. They are cushioned , and have rubber on the feet so you don't slip off. They are built to be really comfy … and it worked. Each one has a personal alarm clock you can set, and when it goes off, your pillow vibrates for 30 seconds.
The airport has live music every night, and special events. The one tonight was that 8 different Rugby Sevens teams would be coming through. They had interviews, and you could get autographs and photos with the teams. This was England.
Now we're off to check out the different gardens (Bamboo, Sunflower, Cactus, Fern and Orchid). There are also other lounges than the Nexus – the Rainforest Lounge and the Explorer's Lounge. We might check out the free movie theater, too. If we were here during the day we could take the free Singapore city tour. After that, we're going to check into the hotel, which will give us free access to the rooftop swimming pool, spa and sauna, and the gym. Oh, and in addition to the free internet kiosks, there are laptop access areas where you can just plug in your own computer.
Sheesh!! Are you ready to throw up yet? I am.
Then we'll sleep for a bit.
And just to help ease any envy that might possibly have sprouted up, I'll fill you in on what will follow: after sleeping for about 4 hours, we'll get up at 3:45 for our flight (ay, there's the rub …). And of course then we get one square foot of personal space for the next 18 hours, breathing recycled air and working on photo and text editing for as long as our laptops will let us.
---